If you are considering cloth diapering (which you totally should!) there are a few things that you will probably want in addition to the diapers themselves.  You can get by without most of these things, but they definitely make life a lot easier!
---
This post may contain affiliate links.  If you purchase a product through an affiliate link I make a small commission at no cost to you.  This helps keep my blog running so thanks for your support!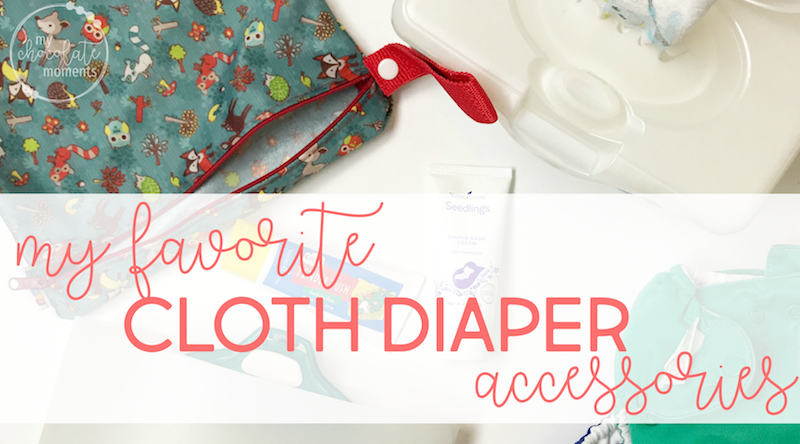 Wet Bags
You definitely want wet bags to store your diapers in.  I always have a smallish one in my bag for the on the go – that keeps the smell mostly contained and also keeps the diaper contents from getting on the rest of the stuff in your bag.  My favorite on-the-go wetbags are Bummis Fabulous Wet Bags in the Small size.  They are super thin and not bulky, but they hold at least 3 dirty cloth diapers (or a couple of dirty diapers plus wet clothes).  I have two to make sure I always have a clean one available. (actually, I have three now because I lost one and bought a new one to replace it then months later found the original in the pocket of a suitcase…)
Diaper Pail
You'll also want something to store the dirty diapers in at your house in between wash days.  Some people use hanging wet bags like this one and hang them on a bathroom door.  We use a plastic trash can (similar to this one) lined with a large wet bag (we use the Planet Wise Diaper Pail Liners). That size can and liner is plenty large enough to hold 3ish days worth of diapers in between washes.
We have two liners so that when I put one in the wash I can immediately line the trash can with a clean one and it's ready to go to receive more diapers.
Cloth Wipes
If you are using cloth diapers it makes sense to go ahead and use cloth wipes too.  I love cloth wipes for when my babies are exclusively breastfeeding and their poop is able to go straight into the washer without being sprayed off.  Once they move on to solids though I switch back to disposable wipes.  A little wasteful?  Maybe.  But I really hate trying to clean poop off of cloth wipes and I'd rather just use disposable so I can throw those suckers away.
But when I am using cloth wipes, I use some that I got on Etsy.  You can totally make your own, but these were pretty inexpensive ($10 for 30 wipes) and worth it to me to not have to cut and sew a million wipes (well, 60).  Most cloth diapering sites also sell cloth wipes (like Kelly's Closet where I buy most of my cloth diapering stuff).
You can see how I fold our cloth wipes to make them pop up like traditional disposable wipes here.
Diaper Sprayer
Once your baby is no longer exclusively breastfeeding you have to get the bulk of the poop off the diapers before you wash them.  And while I love our cloth diapers, I'll be honest that the poop situation grosses me out and so I try to handle it as little as possible.  If you're lucky, the poop is "plopable" and just plops into the toilet with no other work needed.  But more often than not it's stuck to the diaper and you have to get it off.
Some people will scrape the poop off into the toilet or use the "dunk and swish" method where they dunk the whole diaper in the toilet but that's too much for me so I use a diaper sprayer.  Picture the sprayer that attaches to your kitchen sink that you use to rinse food off of dishes…same concept just attached to your toilet.  I use the sprayer to spray the poop off the diapers into the toilet.
Michael installed ours but I seem to remember that it was a pretty easy process.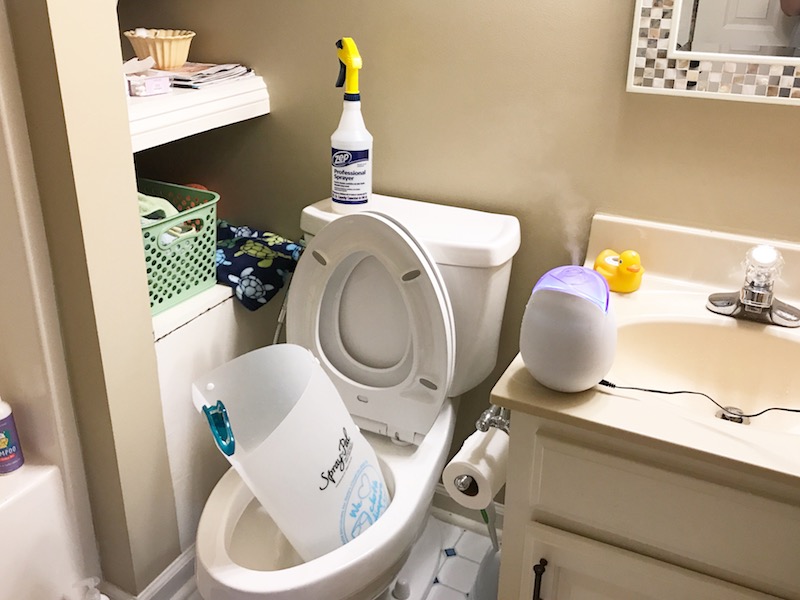 Spray Pal
The second crucial part of my diaper spraying set up is a Spray Pal.  The Spray Pal is basically a cylindrical shield that keeps poopy water splatter from going all over your bathroom.  I dislike that it's kind of large and inconvenient to store in the bathroom, but it makes a big difference in the mess (and my peace of mind) in the bathroom so I deal with it.
You can see how to use the Spray Pal and diaper sprayer here:

Drying Rack
When Hudson was a baby I line dried all of his diapers.  But then we had two in diapers and it was winter and I got lazy so I started throwing the diapers in the dryer to dry them.  They've held up fine and if they wear out a little faster, so be it, I'm ok with that.
But if you do want to line dry your diapers all the time (or even occasionally to sun them and get the stains out) and you don't have a clothesline in your yard, then a portable drying rack is really helpful.
Cloth Diaper Safe Diaper Cream
At some point your baby will probably need some diaper cream for a rash or perhaps you like to put it on them every time you change the diaper for a barrier.  A lot of commercial cloth diaper creams are not safe to use with cloth diapers because they can cause your diapers to not absorb liquid as well (which is the exact opposite of what you want a cloth diaper to do!)…plus a lot of those creams are full of nasty ingredients that you shouldn't use on your baby anyway.
So it's a good idea to have a cloth diaper safe cream on hand.  There are lots of options out there!  Some people use just straight coconut oil, I have made my own in the past with coconut oil and essential oils, Kelly's Closet (and other cloth diaper retailers) have various brands as well.
Since I am a Young Living essential oils distributor I use their products the majority of the time.  Young Living's Tender Tush is cloth diaper safe, and their new Seedlings Diaper Rash cream is as well (it could cause some staining that will go away with time but should not impact the diaper's effectiveness).
Liners
If you choose to use a non-cloth diaper safe diaper cream or one that is safe for the diapers but could cause staining, you can also use a liner to protect the diapers.  Some people make their own reusable ones out of cut up fleece, or you can get disposable liners.
The disposable liners can also be used in each diaper even when you aren't using a cream but to catch the poop and hopefully prevent you from having to do any spraying, scraping, or swishing.
---
There you go!  Some of my favorite cloth diaper accessories!  Good luck to you as you venture on your cloth diapering journey :).
To see which diapers we use, since we talked all about diapering accessories in this post but not the diapers themselves, check out my posts about our newborn diaper stash and how to pick your cloth diapers.
Current cloth diapering mamas – are there any other accessories you'd add to this list?