Recently my Facebook timehop reminded me that a year ago we got our first robot vacuum…man time flies!  I decided after a year of usage it was high time I did a review and shared with you why we switched from a Roomba to a Neato.
First of all, if you haven't hopped on the robot vacuum bandwagon you are SO missing out!  They are totally amazing!
I was honestly super skeptical when we started looking for a new vacuum.  Michael was the one to suggest a robot vacuum and I really thought it was a joke…like, "I know they exist but they don't actually work, right?"  But we started reading some reviews and it seemed like the people who owned them loved them!  Maybe this thing was legit?!
We decided to give it a go and decided if we hated it we could return it.
Trust me, there was no hate.  Pure love from the get go.  What a life changer!
I am honestly so embarrassed at how infrequently I vacuumed before!  Our old one was so bad that it was basically pointless, plus it was a lot of trouble to haul that dinosaur out and vacuum the house.  Now my house gets vacuumed multiple times a week…and it requires almost no effort from me!
(Check out my 12 Emotions Every New Roomba Owner Experiences post to see how shocking and fascinating it was!)
---
This is not a sponsored post, I purchased both of these vacuums myself and receive no compensation for my review.  This post does contain affiliate links.  If you purchase a product through an affiliate link I make a small commission at no cost to you.  This helps keep my blog running so thanks for your support!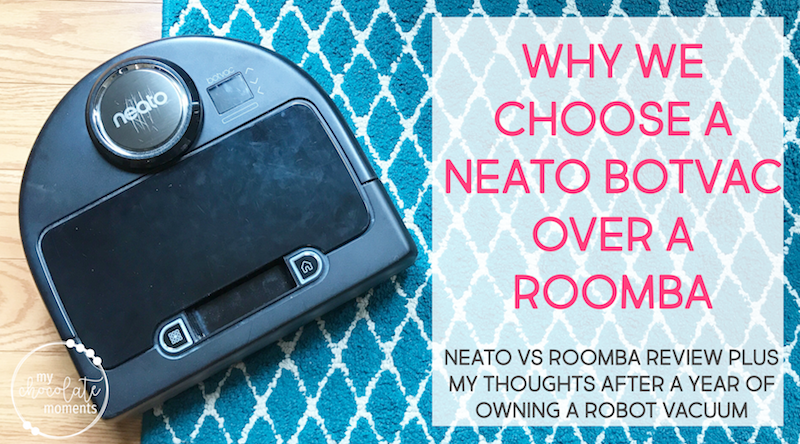 Neato vs Roomba
When we first decided to get a robot vacuum we went with a Roomba – it seemed like a no brainer as that was the most well-known brand that we'd heard of.  We looked at different models of Roombas but didn't even consider other brands.
Having never had a robot vacuum of any kind, we were very happy with it.  I mean, this little machine was vacuuming our house for us – what's not to like, right?!  The only thing we were unhappy with was that didn't do well transitioning between the area rug and the floor in our living room.  The sensors on it saw that as a drop off so it would avoid the edge.  We hacked it by just covering up the sensors with some paper and that mostly took care of that issue.
However at Christmas we were talking to my aunt about her robot vacuum, which was a Neato, and it seemed to have WAY more cool features than ours.  When our Roomba quit working just a few weeks later we decided instead of exchanging it for a new Roomba we were going to switch to a Neato and see how we liked that.
Why we picked the Neato
Here are some of the features our Neato has that our Roomba did not
Neato actually maps out the room and vacuums in an orderly fashion (straight lines through the house) rather than bouncing around in a crazy, random fashion like Roomba
Thanks to Neato's mapping function it can clean in multiple rooms (for example, I can start it in our bedroom and it will clean the bedroom, the bathroom, then move to the living room/kitchen/dining room area); Roomba can really only do one room/open area at a time, otherwise it gets confused and lost since it runs randomly instead of mapping it out
If Neato's battery gets low while cleaning it will go back to its charging station, recharge, and then return to where it had been and pick back up until it has finished the whole room/area.  With Roomba, once it died and recharged it didn't remember where it had been.
Neato has no problems transitioning from rug to floor like Roomba did
Neato has a phone app where you can see a completed map of what it cleaned (this was fascinating to me at first, now I rarely look at it because I know its pattern and what all it cleans) and you can use it as a remote control to "drive" it around if desired
Our model of Neato (I don't think this is true for all of them) is wifi enabled so I can start it from my phone, even when we aren't at home – totally not a necessary feature but one that is really nice (Note: there are some Roomba models that have an app and are wifi enabled as well, but the model we originally had did not have those features for me to compare)
A few Neato cons
Of course every device has its cons so I do want to cover that.
The Neato is taller than the Roomba was and therefore gets stuck under our couch sometimes (if you look in the picture above you can see some scratches on it from that).  We were able to get around that by putting our couch and loveseat on little riser things (they're small and just look like coasters) that lifted them up that tiny bit needed so that it wouldn't get stuck
You can purchase magnetic strips to lay down to create a barrier for Neato not to cross.  Roomba uses a laser for its invisible wall.  I actually preferred the laser over the strips, however, with our floor plan we don't really need barriers anywhere so I honestly rarely use them.
Cost wise the Neato we chose was more expensive than the Roomba we originally had, but the added extras were well worth it for us! (This is the Roomba model

we started out with,

this is the Neato model

we now have)
After a year with a robot vacuum it is a purchase that definitely do not regret!  It makes it SO much easier to keep my floors clean, and with a three year old and one year old who play on the floor all day long I'm very thankful for that!
Do you own a robot vacuum?  Leave a comment and tell us what kind you have!