Once you start switching from disposable to cloth in some areas of your life (like cloth diapers, cloth wipes, and cloth menstrual pads) other areas just come along naturally, like cloth napkins (although I don't know that I'll ever be able to make a switch to cloth toilet paper…ewwww).
I was hesitant at first about switching to cloth napkins because I wasn't sure if they were going to be a big mess or a lot of hassle.  My mom had a ton of cloth "napkins" (just large squares of cloth without any finishing on the edges) that she had cut out for an event at church so she let me have a stack of those to do a trial run.
We used those for quite awhile and realized that using cloth napkins was a lot easier than I expected, but since the ones we'd borrowed had raw edges they frayed a lot and would get in a big knotty mess each time I washed and dried them. I decided it was time to get some "real" cloth napkins, but I just about choked on the price of buying enough of them for us to have for everyday use.
So I decided to sew my own.
There are a lot of tutorials out there using a serger to finish the edges (which I don't have) or making a 2 layer napkin or sewing fancy corners.  I was more interested in speed than perfect napkins, especially since these are just for daily use with our family.
I heard that you can zig zag the edges if you don't have a serger and it would have the same effect but I tried that and it was a no-go.  The edges still frayed terribly in the wash.
Instead, I went with a method that took a tiny bit longer but really wasn't bad once I got in a good rhythm.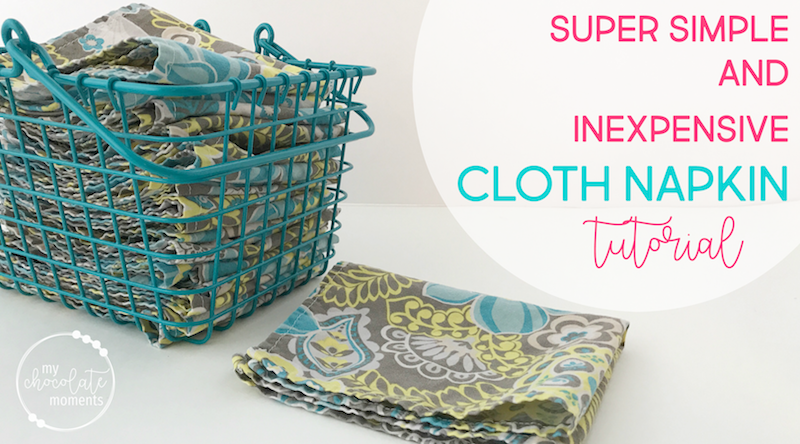 DIY cloth napkins tutorial
I bought cloth from Hobby Lobby.  You can totally use scraps you already have or buy fabric that coordinates with your decor, I just picked some fabric that was on sale.  Not the cutest in the world but it was cheap.
Cut your fabric into squares or rectangles.  I cut mine into 12×14 inch rectangles which, once the edges were finished, ended up making napkins that were 10×12 inches.  I was trying to maximize the fabric that I had purchased and cutting large squares would have left a lot of extra.  If I hadn't been trying to squeeze as many as possible out of my fabric I might have done 12×12 squares (12×12 once finished, 14×14 cut), but the size I ended up with works just fine too.
Fold the edges over approximately 1/2 inch and iron, then 1/2 inch again and iron.  Do that on all 4 sides.  I didn't measure or fold precisely, just eyeballed it.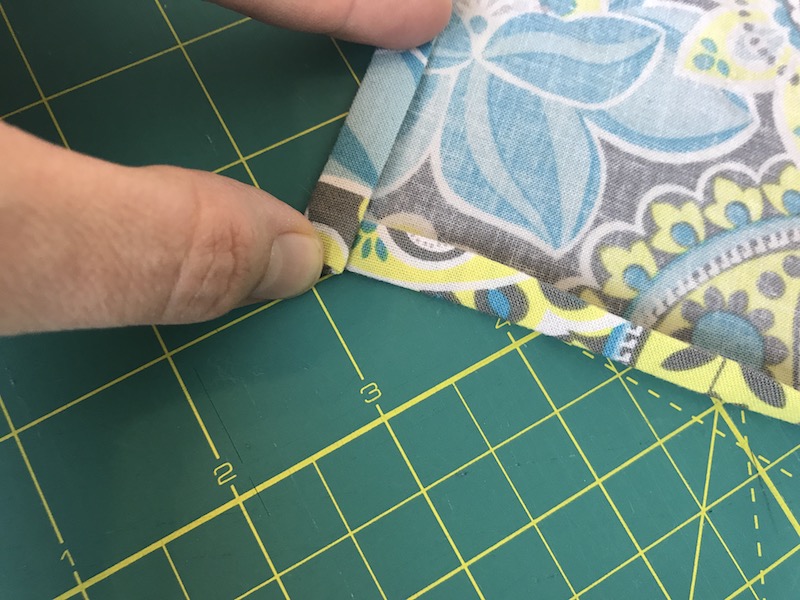 Stitch around the folded over edges.  As you can see my stitching isn't very neat or straight.  I also didn't do anything fancy with my corners, I just sewed right over the folded up corners.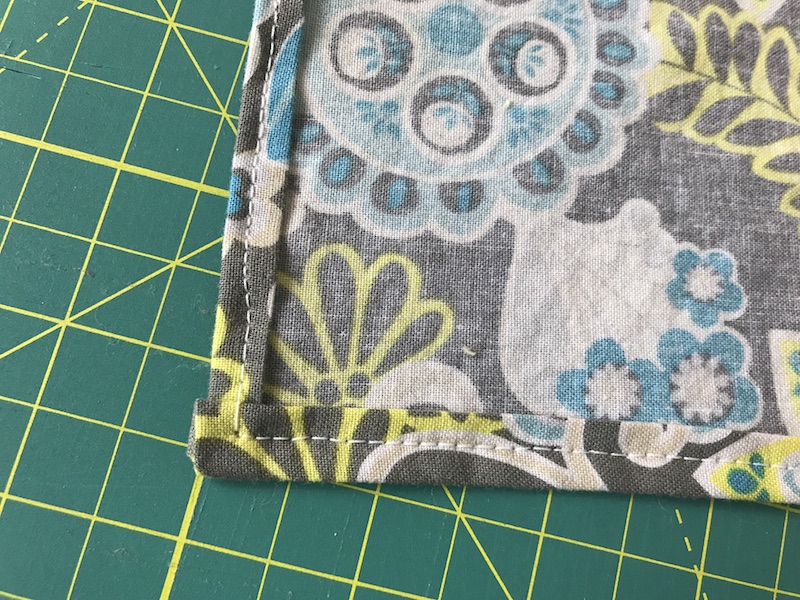 And voila!  You made a napkin!  Now, mine aren't even close to perfect – they aren't exact rectangles, the hems aren't even, and the stitching isn't straight but these aren't gifts or fancy napkins or anything so I'm happy with them how they turned out.
How do you care for them?
I'm not sure why but I thought cloth napkins would be really messy or stain badly.  Now I will say that if we have a big mess to clean up (blobs of peanut butter, a bunch of spilled soup) I still go for the paper towels or paper napkins.  But for the regular stuff, they work just fine and clean up easily.  I don't think we've had any stains that didn't come out in the wash.
I keep a bin in our kitchen that we use to toss cloth napkins, cleaning rags, and dish towels in as we use them, then I wash those all together on a hot cycle to make sure they get good and clean.  So far, so good!
After I wash and dry them I stack them up (I don't worry about folding and definitely no ironing) and they're ready to use.
So much easier than I expected!
Do you use cloth napkins?  Did you make them yourself or purchase them somewhere?