I've been using Young Living's amazing new makeup line, Savvy Minerals, for over 6 months now and I figured it was high time I did a tutorial showing what all I use!
I am fairly simple with my makeup.  I like light coverage (I thankfully only have a small amount of redness to smooth out) and I like to emphasize my eyes, but I also really like to be able to apply quickly.  I'm so happy that Savvy Minerals fulfills all those needs for me!
---
This post contains affiliate links.  I am a Young Living independent distributor so if you purchase a product through my link I make a commission at no cost to you.  You become part of my Oily Moments community and we will be here to help you with your new oils.  Thanks for joining with me!
My Savvy Minerals Makeup Routine
Here's a video I made showing how I apply my makeup and which products I use.
Savvy Minerals Makeup Products Mentioned
• foundation (Warm 1)
• misting spray
• bronzer (Crowned all Over)
• blush (Smashing)
• Diamond Dust
• eyeshadow (Best Kept Secret, Crushin', Determined, Wanderlust)
• eyeliner (Jet Setter)
• lipstick (Adore)
• lip gloss (Maven)
• Savvy brush set (foundation, blush, veil, eyeshadow, blending)
• bronzer brush
• eyeliner brush
For more information about each of these products, the ingredients used, color options, and what sets Savvy Minerals apart, check out this post I did.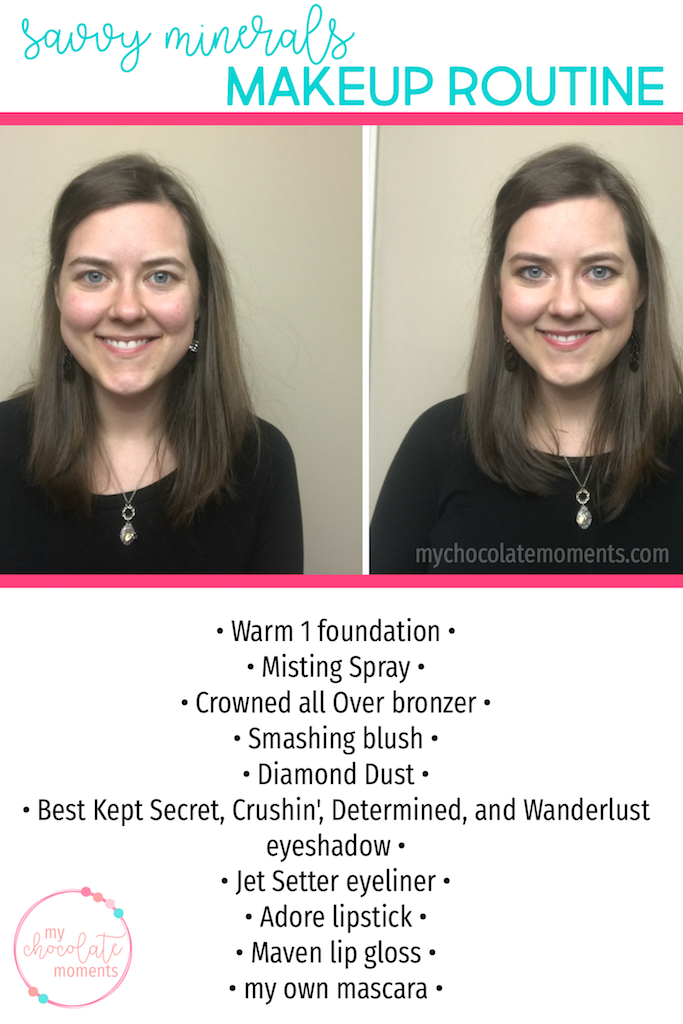 Getting started with Savvy Minerals makeup
For current members, I recommend looking at what you already use on a daily basis and then replacing that with similar Savvy Minerals products.
"Minimalist" makeup starter kit
– foundation
– misting spray
– blush
– one eyeshadow
– multitasker (can double as eyeliner and a second eyeshadow)
– lip gloss
TOTAL: $150
"Full face" makeup kit
– foundation
– misting spray
– veil
– blush
– bronzer
– 2 – 3 eyeshadows
– eyeliner or multitasker
– lipstick
– lip gloss
TOTAL: $275
"I want it all" makeup kit
Assuming everything is in stock (including the brushes) you can buy every single piece of the makeup
TOTAL: $1,002
If you are NOT a Young Living member yet, we have a brand new Savvy Minerals makeup starter kit coming out in February!  So you'll be able to get started with Savvy makeup and become a Young Living member as well.
Until then, have a basic starter kit that is $45 and comes with a 5ml bottle of Stress Away essential oil – you could get the basic starter kit and then add on the makeup that you want.  That'll get you a makeup makeover and a wholesale membership with Young Living so you can continue getting makeup, essential oils, personal care products, cleaning products, supplements, and more at the wholesale price.  Woo hoo!
If you don't already have a friend who's been talking to you about Young Living, I'd love to help you get started!