Whole30 week 1 is done-o and I survived!  Hooray!  Here's what I ate, what we liked (and didn't like), and thoughts about each day.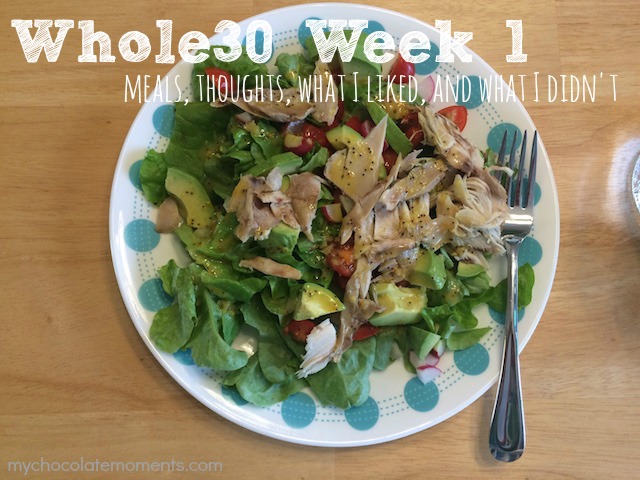 I'm not sure how well you can read this, but this was my meal plan for the week.  I don't usually plan our meals this much in detail, but since this diet is so strict I wanted to make sure that I planned out everything and actually over planned as far as how much food we would need.  Of course this ended up getting changed some during the week as we discovered foods we didn't like or I realized a meal made more or less than I expected.
Look how full that fridge is!  Mercy.  I went on a huge shopping trip Saturday to get everything on my insanely long list.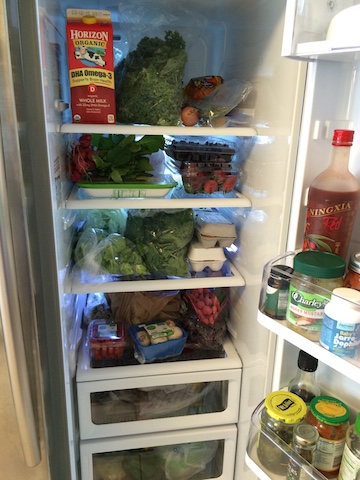 And of course I had to enjoy one last Dr Pepper and Reeses before starting!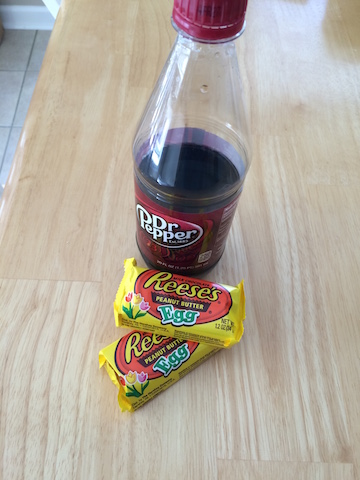 Alright, here we go!
Day 1 (Sunday)
breakfast – Saturday night I fixed baked eggs with spinach, tomato, and onion and then warmed it up for breakfast Sunday.  I was not impressed.  For one, I don't like cooked tomatoes (I just thought I'd give them a try again) and also the consistency was too wet.  I also had roasted potatoes with rosemary.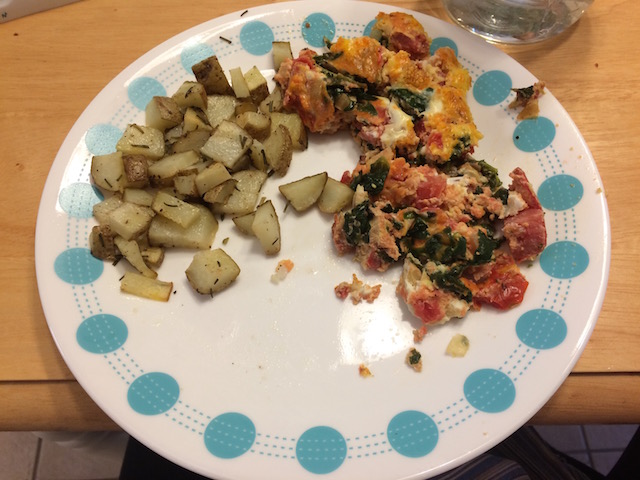 I knew I didn't eat enough, especially since I didn't eat very much of the frittata, so I wasn't surprised that I was very hungry by the time church was over.
lunch – After church we fixed tuna with avocado and some kale chips.  The tuna was delicious!  Michael tried mine and liked it so much that he wanted me to fix him some which was so surprising to me.   Hudson loved it too and gobbled it up.  I felt like we ate a bunch but I was hungry pretty soon after so it wasn't filling enough.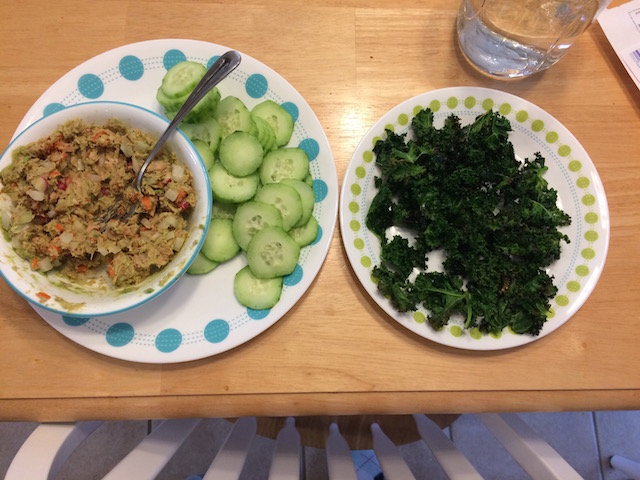 snack – For snack I tried this broccoli/carrot/avocado/grape/pumpkin seed salad and a boiled egg.  The salad was so-so.  Not the best thing that I'd ever made but not the worst.  It made a TON so I had a bunch of leftovers…which is too bad because I didn't like it that much.
Still hungry a little while later so I ate half an apple with almond butter (not as good as my beloved peanut butter but it'll do)
dinner – My favorite meal of the day!  And I finally got full!  We cooked a chicken in the crock pot and had sweet potato fries and roasted green beans.  The chicken and sweet potato fries were recipes that we know and love so it was nice to have some "comfort food".  The green bean recipe was new and it was delicious!  I loved it.  They were way too spicy for Hudson though so just fyi if you're making them for your kids.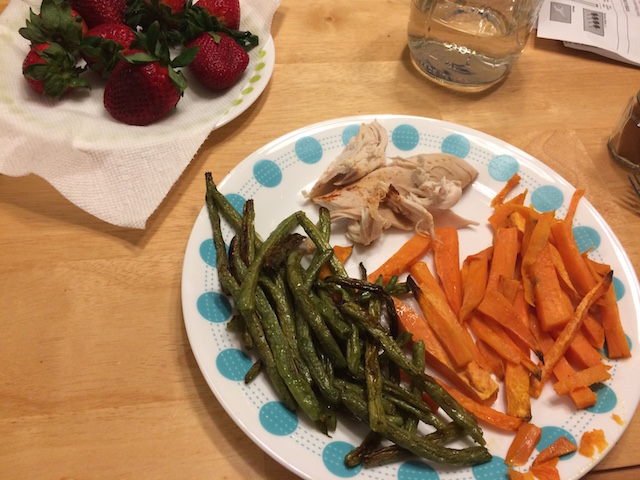 thoughts – Day 1 was a struggle for sure!  Hunger and headaches were the theme of the day.  I felt hungry pretty most all day until supper.  I think like I ate enough for three people at supper to finally get full!  Right before we left for church Sunday evening I got a raging headache that lasted until we went to bed.  I very rarely get headaches so that was unusual.  I'm guessing it was from a lack of sugar.
Day 2 (Monday)
breakfast – I tried chopping up the frittata from Sunday and putting it back in the oven to see if that would dry up the mushy texture a bit.  It didn't.  I also forgot to roast a potato the night before so I fixed one really quick…too quick because the pieces didn't get cooked all the way through.  I ended up giving Hudson almost all of my eggs and just eating the raw-ish potatoes and some bone broth that we made after we cooked chicken last night.
(bone broth = spicy broth made from the bones of the chicken from the previous night's meal.  It's supposed to be super good for you and it's delicious.  Recipe here)
Breakfast fail.
lunch – Lunch was almost a fail too.  I had planned for us to eat sweet potato fries…I hadn't planned on us eating so many the night before that there were very few leftovers. Then I planned to bake a sweet potato in the oven but I forgot to put it in before lunch.   So I decided just to throw a sweet potato in the microwave.
Our microwave has an automatic potato sensor thingy but we never use it and as I'm merrily fixing my salad and the potato is smelling very strong I think that maybe it's been in there a little too long.  I look and it says it still has 10 minutes left but when I open the microwave smoke comes billowing out!  I had to open the doors and windows and turn on the fan (luckily it was on the upper end of freezing outside instead of the single digits!).  The potato was dry and felt petrified.
(Update: on Saturday our microwave still smells like burnt potato…oh my!)
However, the rest of lunch was amazing!  I made orange poppyseed dressing (waaaayyyy better than the boring olive oil and vinegar homemade dressing I've made in the past when trying to avoid store bought dressing) and used the leftover chicken, lettuce, radishes, and cherry tomatoes to make a big salad.  We ate what was left of the sweet potato fries and had some macadamia nuts on the side.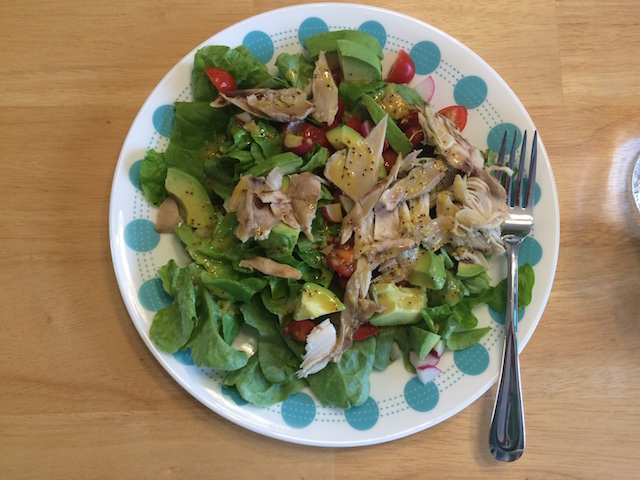 snack – Another round of the broccoli/carrot/apple salad, which held up surprisingly well, although I liked it less on day 2 than I did day 1.
dinner – I made "the bomb chili" in the crock pot along with roasted brussels sprouts.  Other than forgetting to thaw out the ground beef and having to cook forever to get the frozen meat browned, this was an easy and delicious dish!  There are tons of veggies in it but you don't notice them (at least, I didn't) so it's a good way to get extra vegetables in.  It's very different from my normal chili recipe and the consistency is much thicker, more like sloppy joes.  But it was still good, although Michael didn't like it as much as I did.  Hudson loved it!
I cooked the brussels the same way I do our roasted broccoli, minus the parmesan, and they turned out great!  I've always been afraid of brussels sprouts but not anymore.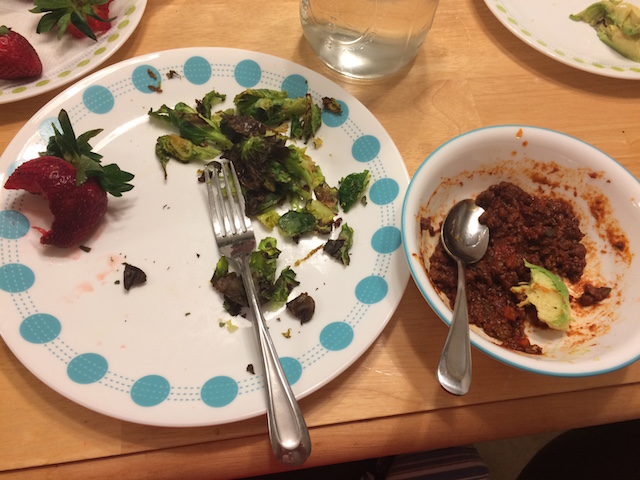 snack – I felt hungry before bed so I had an apple with almond butter.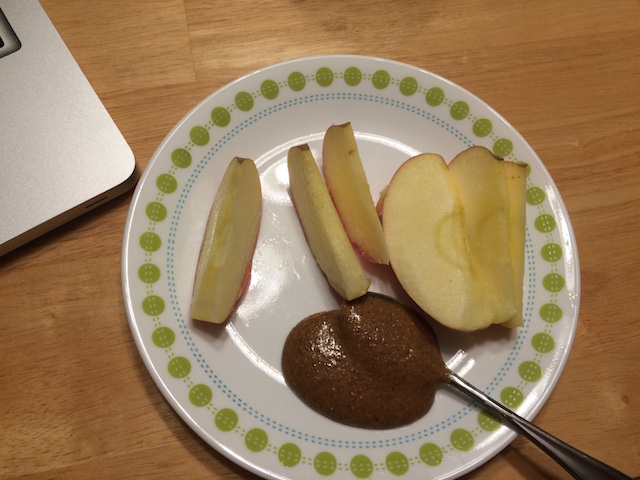 thoughts – I woke up with super puffy eyes.  That only happens if I have a big cry the day before but I hadn't so I really have no idea why that happened.  I'm not sure if was related to Whole30 or just a weird coincidence but it was very strange.  My hands also felt swollen which happens after I eat a ton of salt (like tortilla chips) but again, I didn't do that the day before so who knows.
I've upped my water and can definitely tell since I have to go to the bathroom more frequently!  Today I had a very mild headache in the afternoon but nothing like the one Sunday.  My milk supply seems to be fine; in fact, I felt like I had more milk than usual this morning when we woke up.
I have been very impressed and surprised with how well Hudson has done with our meals.  I have given him everything we eat and he has eaten great (better than me at times)!  He loved the mushy tomato eggs, gobbled up tuna (which had raw onion), ate radishes and chili and broccoli salad.  The only things he has really rejected were the roasted white potatoes, brussels sprouts, lettuce, strawberries, and the roasted green beans (I made them too spicy…you should have seen his poor face when he ate them – I felt terrible!)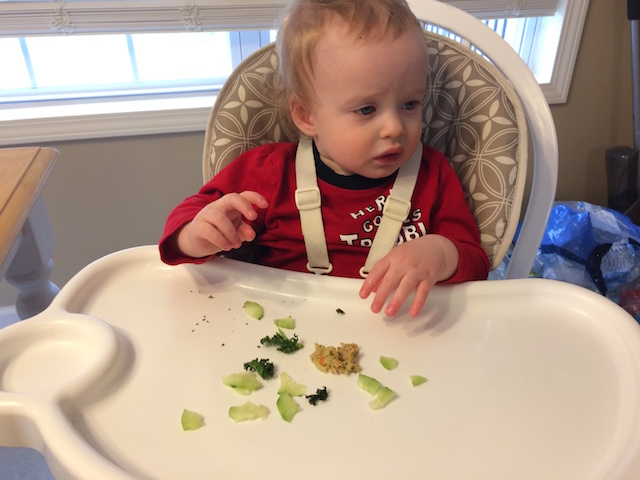 Day 3 (Tuesday)
breakfast – After the tomato spinach frittata was a bust I decided to try another frittata recipe.  This one was asparagus, spinach, and mushroom.  The only problem?  I hate mushrooms.  The consistency was so much better with this recipe but the mushroom taste was so strong and in every bite that I just couldn't eat it.  I will be reusing this basic recipe but leaving out the mushrooms.
So again I mostly just had my potatoes and broth for breakfast.  Time to find another egg option that I actually like.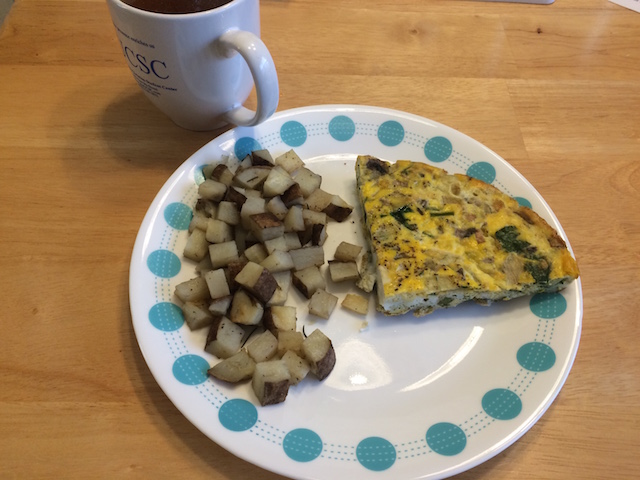 lunch – Leftover chili with avocado, some veggies (honestly can't remember now), and some macadamia nuts.
dinner – Buffalo ranch chicken stuffed peppers (using the leftover chicken from the crock pot chicken) and roasted cauliflower.   I didn't not care for the stuffed peppers but the cauliflower was delicious!  So, so good!  I'm usually just meh about cauliflower but this recipe was fantastic.
And now I'm sad that I used up the chicken for this meal and can't have any more yummy salad right now.  Sniff.
snacks – apple with almond butter, tangerine, boiled egg
thoughts – I think it's good to experiment with new foods or even to try things that you haven't liked in the past, but when you're trying to stick to a strict diet it might not be the best time to try those foods that you hate and hope that you magically like them…chances are you won't and now you're stuck with an inedible meal (and you can just pull out the Frosted Flakes and eat a bowl real quick since you didn't like what you fixed!).
Also, today I woke up with a sore throat.  It went away after a few hours but I can't help wonder if it was a coincidence or maybe related to detoxing from Whole30?
Day 4 (Wednesday)
breakfast – Ok no more eggs with yucky ingredients for me!  I abandoned the frittatas and scrambled eggs with onion, green pepper, and spinach.  Finally an edible breakfast!  I also had roasted potatoes and broth.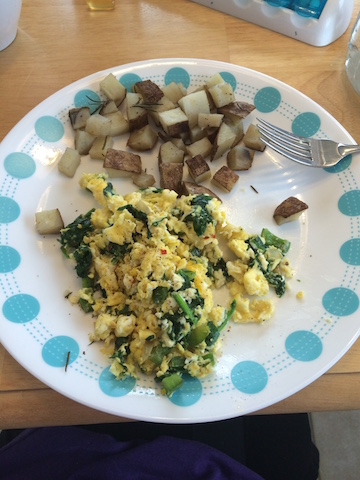 lunch – Leftover stuffed pepper and same salad as Monday (minus the chicken)
dinner – Baked sweet potato, boiled egg, berries, leftover roasted cauliflower
snack – apple with almond butter
I ate a whole apple this time (usually I just do half) and quite a bit more almond butter because I felt like my milk was dropping some so I was trying to increase my calories, fat, and carbs a bit.
thoughts – This was the first day that I didn't feel crazy hungry all day…I'm sure eating a good, filling breakfast probably played a big part in that!  Still having a headache, mostly in the afternoon and evening.
This was also my first Whole30 "challenge".  We had to go to church early to help serve the meal for the college kids and normally I would eat there, but not while on Whole30.  So before we left I ate my apple with almond butter snack, I didn't eat anything while we were there, and then after church I ate another snack-y supper.
Day 5 (Thursday)
breakfast – Same thing as Wednesday
lunch – A serious snow day calls for some comfort food!  Leftover chili, avocado, kale chips, and berries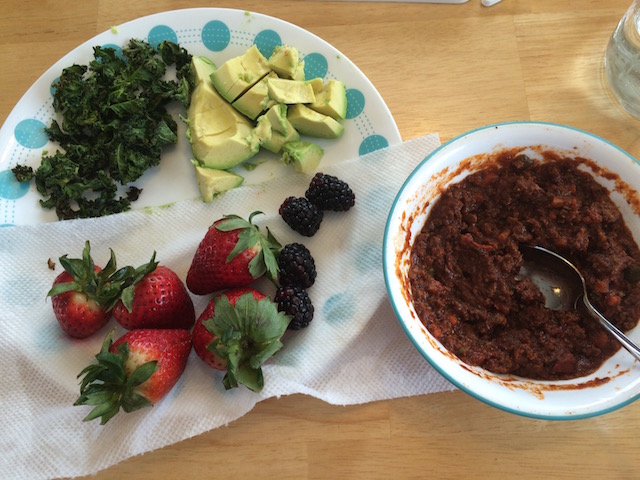 dinner – Green chili chicken with cumin roasted carrots, baked sweet potato, and berries.
The chicken was good.  Not like the best thing I had ever eaten, but still good.  I did not like the flavor of the carrots but Michael and Hudson both loved them.
snack – apple with almond butter, tangerine
thoughts – The first day without a headache!  Hooray!
Day 6 (Friday)
breakfast – Decided to fry my eggs this morning so I had two fried eggs, roasted potatoes, bell pepper strips, and broth.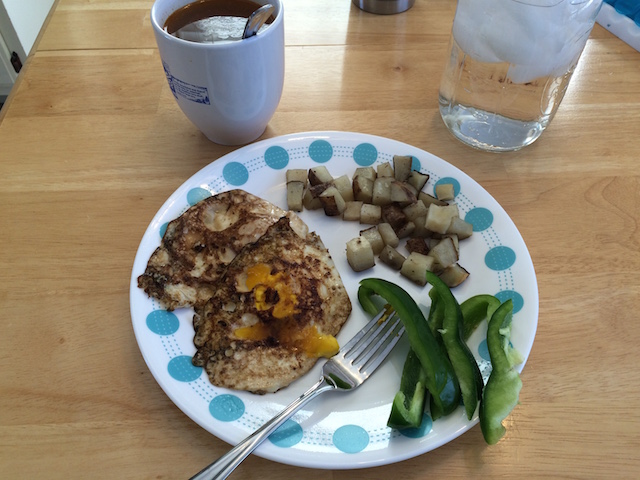 lunch – We had a random assortment of leftovers.  I had leftover green chili chicken with avocado, some berries, and kale chips.  Hudson had (and thoroughly enjoyed) leftover buffalo chicken and avocado.  Wow that was a mess!
dinner – Spicy tuna cakes with roasted asparagus and berries (strawberries and blackberries).  The tuna cakes were delicious!  Sweet yet spicy and so good!  We all loved them and are going to have them again next week.  So yum.
snacks – apple with almond butter, tangerine
thoughts – I don't feel horrible anymore and I'm not having to spend as much time in the kitchen as I expected…things are looking up!
Day 7 (Saturday)
breakfast – Two fried eggs, some bell pepper strips, roasted potatoes, and broth.  Good and filling, although I've just about had all the roasted potatoes I can handle so it's time to change it up a bit for next week!
lunch – Avocado tuna with cucumbers and baked sweet potatoes
dinner – We tried cinnamon orange shrimp and it was fantastic!  Too spicy for Hudson though so next time I'll cook him some separately.  We also had zucchini, roasted butternut squash, and berries.
snack – Apple with cashew butter (this was my first time trying cashew butter and I didn't like it); tangerine and some macadamia nuts
thoughts – I woke up slightly stopped up and feel like I've got a bit of a cold coming on.  Sore throat a few days ago and then this…more coincidences or is detoxing my body causing some dormant sickness to spring up or weakening my immune system so that I'm catching stuff? (…who knows, I totally made those things up so that might not even be legit).
I also noticed that I'm not getting nearly as hungry between meals and not feeling like I have to eat as much at each meal.  The first few days I was starving but now I feel pretty satisfied throughout the day.
I did get pretty mad (at no on in particular, just in general) Saturday night as I was getting ready to make a new breakfast dish for Sunday morning that I had to cook yet another meal and wash more dishes.  I felt exhausted (I'm sure the minor sickness wasn't helping) and like I really just wanted a break from fixing food! (totally opposite of how I was feeling Friday funnily enough).
Thoughts for the week:
Well I tried some new foods and recipes that were a big, fat bust, but I also tried some new ones that were huge winners!  The most exciting thing is that I survived my first week!  Once I got past the first few days and my headaches and the hunger subsided it got a whole lot easier.  Actually I was surprised, compared to dieting in the past, as to how few cravings I had for sugary things.  Usually I really struggle with that for a few days.
I do feel like my milk has dropped some, especially in the afternoon, but since Hudson is 13 months and eating good meals I'm not as concerned about it.  I am trying to boost it a bit but it's not a huge problem that makes me feel like I need to quit Whole30 at this point.
Notes: This meal plan is probably far from perfect.  Because I am still breastfeeding I have been more lax about having snacks (Whole30 recommends no snacking), eating fruit (I think you're supposed to just eat 1-2 servings a day and I've been doing 2-3), and also eating potatoes multiple times a day.  So just fyi if you're planning to do Whole30 definitely read the book or read the guidelines to make sure you are doing it correctly.
But for the most part when I'm planning my meals I start with my protein, add at least 2 veggies, make sure to have some healthy fats, and then maybe some fruit on the side.
I have linked to all the recipes from this week but if you're more visual or want to see all the recipes I've collected, check out my Whole30 board on Pinterest.
(oh and in case you care our dishes are Corelle's South Beach pattern)
I've got another week of meals planned and the groceries are purchased so here we go sailing into week 2!